Best National Parks in California
Best National Parks in California
I feel so grateful that I live in the beautiful state of California. It's breathtaking and has some of the most beautiful parks worth visiting year-round. California's national parks are some of the most renowned in the entire world, let alone the contiguous United States.
California is a relatively wide and lovely state to explore, especially within its national parks, from the southerly edges near San Diego to the northerly quarters around Crescent City. There are now a number of national parks to visit, some with soaring mountains and rushing streams, others with towering waterfalls and desert-like environments. Whatever your interests are, you're nearly certain to find one that you enjoy. Here is my list of bucket-worthy parks to visit in California as well as what to do and places to stay.
Joshua Tree National Park
Joshua Tree National Park is one of the most popular places to visit in California. It took me two or three days to discover the Joshua Tree National Park and why it is so remarkable.
Minerva Hoyt, a community organizer, recognized the human threats to the local ecology in the 1930s and urged President Franklin D. Roosevelt to establish the Joshua Tree National Park monument in 1936.
In 1994, it was renamed Joshua Tree National Park, and it now protects 792,510 acres at the convergence of the Mojave and Colorado Deserts.
Please note: This post may contain affiliate links, which means I get a small commission if you make a purchase (at no extra cost to you). You can also learn more about my affiliate policy here. Thank you for your support!
What exactly is a Joshua Tree?
One of the fascinating Joshua Tree facts is that it is actually a yucca species, not a tree! They grow at a leisurely rate of an inch per year, which is typical of desert plants, and bloom with clusters of cream-colored flowers from February to April.
But the Joshua Trees aren't the only attractions in this park. Junipers, scrub oaks, Mojave yuccas, and prickly pear cactus are also found. There are also amazing rock formations, scenic roads, relaxing or challenging treks, attractive dams, mountain ranges, and breathtaking sunsets and sunrises.
Joshua Tree National Park is located in San Bernardino County and is one of the most popular national parks in Southern California. It's about 2.5 hours from San Diego or 2 hours from Los Angeles, making it the easiest of the national parks in San Diego to visit.
The Best Things to Do in Joshua Tree National Park
Hidden Valley Trail
Barker Dam
Ryan Mountain Trail
Pinto Basin Drive.
Cholla Cactus Garden
Skull Rock
Keys View
Where to Stay in Joshua Tree
Camping in Joshua Tree NP
There are nine Joshua Tree campgrounds within the park, as well as a few nearby. From September to May, only the Black Rock, Indian Cove, Sheep Pass, and Cottonwood Group campgrounds accept reservations. The rest are available on a first-come, first-served basis.
Hotels in the area of Joshua Tree National Park
If you're looking for a luxury getaway in the middle of the desert, check out Elwood Street – Chicory, which is only 1 mile from the Joshua Tree Visitor's Center.
Death Valley National Park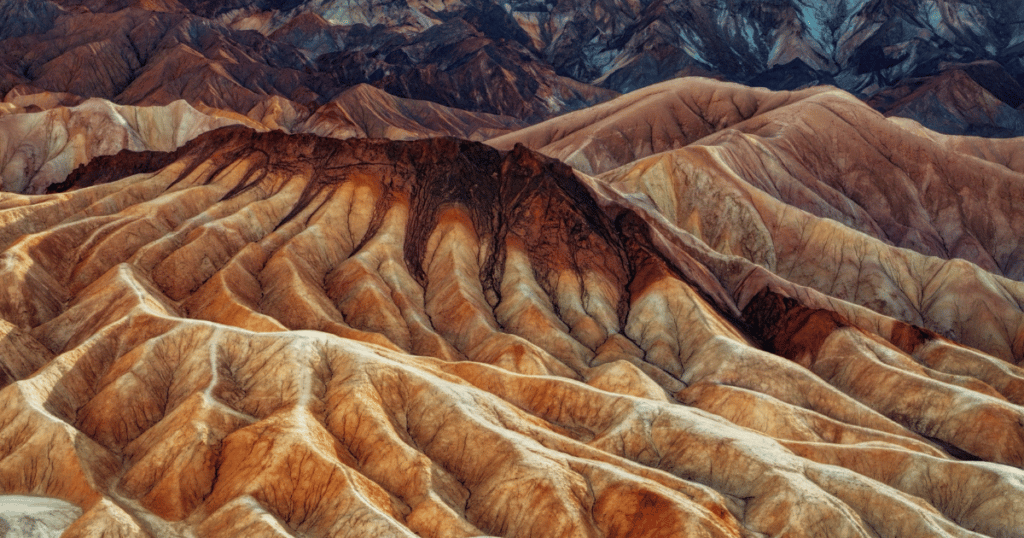 Our vacation to Death Valley National Park almost didn't happen due to weather, but we're so pleased it did. This park quickly became one of our favorite national parks in California, as well as one of our favorite places to visit in the state. What we saw blew our minds and really astonished us!
We had no idea that Death Valley National Park had so many amazing things to do, and we strongly advise you not to just drive past it on your route to other California locations. On our way from Las Vegas to Yosemite, we stopped in and spent two nights and 1.5 days sightseeing sans the crowds that other national parks draw.
The Best Things to Do in Death Valley National Park
Here are some of the best things to do in Death Valley National Park.
Zabriskie Point (sunrise & sunset)
Badwater Basin Salt Flats
Artists Drive
Golden Canyon Hike
Dante's View
Mesquite Sand Dunes
If you're looking for a luxury experience, I recommend lodging at The Inn at Death Valley. It's a 4-diamond award-winning resort that allows you to escape and relax while you spend time in the desert. The inn has been renovated, so it gives a luxury feel right in the middle of Death Valley National Park. You can choose to stay in a hotel room or one of the private casitas for a more intimate experience. I highly recommend staying here!
Death Valley is a Great Place to Camp
A few campgrounds are available. RV hookups cost $14-$16 and $36, respectively. Except for Furnace Creek, everything is first-come, first served.
Death Valley Hotels
If you're looking for a luxury experience, I recommend lodging at The Inn at Death Valley. It's a 4-diamond award-winning resort that allows you to escape and relax while you spend time in the desert. The inn has been renovated, so it gives a luxury feel right in the middle of Death Valley National Park. You can choose to stay in a hotel room or one of the private casitas for a more intimate experience. I highly recommend staying here!
Tours of Death Valley
Consider taking a Death Valley tour from Las Vegas if you can't drive. The following tours are available:
Yosemite National Park
Yosemite National Park is the most well-known of the national parks near San Francisco. Along with Yellowstone National Park and the Grand Canyon, Yosemite is presently in my top three favorite US national parks we've visited. Yosemite Valley, which is framed by some of the best falling waterfalls and magnificent high granite summits you'll ever see, is without a doubt the crown jewel of Yosemite.
This glacier valley stretches for roughly 4.6 miles and is around 3,000–3,500 feet deep. The "Incomparable Valley" was named after the great naturalist John Muir. We spent five days in Yosemite National Park, which had an enormous variety of things to do and was a true highlight of our California road trip.
Yosemite's diversity is one of its most appealing features. There are breathtaking waterfalls, gigantic sequoia trees, great walks, beautiful lakes, alpine forests, scenic drives, and the possibility of seeing a black bear. If you're seeking the top national parks in California, I'd recommend starting with this park in the Sierra Nevada!
Things to do in Yosemite National Park
Bridalveil Falls – Bridalveil Falls is one of the most prominent waterfalls in the Yosemite Valley in California. The waterfall plunges at 620 feet and flows year-round.
Know before you go: Bridalveil Fall is often the first waterfall you'll see when entering Yosemite Valley. In spring, it thunders; during the rest of the year, look for its characteristic light, swaying flow. A paved trail leads from the parking area to the base of this waterfall, which flows year-round. Although paved, this trail is not wheelchair accessible due to its grade.
Vernal Falls (Mist Trail) – The Mist Trail is one of the most popular short hikes in Yosemite National Park, at 7 miles out and back. The steep hike follows the Merced River, starting at Happy Isles in Yosemite Valley, past Vernal Fall and Emerald Pool, to Nevada Fall.
Lower Yosemite Falls – As a part of North America's tallest waterfall, Lower Yosemite Fall is the final 320-foot drop of Yosemite Falls. Deafening in spring and early summer when the waterfall peaks in volume, you can expect to get sprayed with mist from the falls when standing on the footbridge near its base. This short, easy walk rewards with spectacular views of both Upper and Lower Yosemite Falls. This paved loop trail offers different vantage points of Yosemite Falls and Yosemite Creek, and you can stop at the many exhibits to learn more about the natural and cultural history of the area.
Mariposa Grove – Be delighted with the largest grove of giant sequoias in the park, with several hundred mature examples of the tree. Two of its trees are among the 30 largest giant sequoias in the world. Definitely, a place to check out!
Hetch Hetchy – Hidden in Yosemite National Park's peaceful northwest corner, Hetch Hetchy Valley is a treasure worth visiting in all seasons. Located at 3,900 feet, Hetch Hetchy boasts one of the longest hiking seasons in the park and is an ideal place for thundering spring waterfalls and wildflower displays. High temperatures prevail in the summer months. Be sure to check out the vast wilderness, filled with breathtaking peaks, hidden canyons, and remote lakes.
Hwy 120 Scenic Drive – One of the most beautiful drives in California is Highway 120, which begins in Manteca, California, and winds through farm country before entering the Stanislaus National Forest and finally, Yosemite National Park. Once it passes through Chinese Camp, this scenic highway becomes a gem once you drive through the Sierra Nevada Region.
Tunnel View – An incredibly famous view, Tunnel View is a must-see for any first-time visit to Yosemite Valley. Find it just outside the Wawona Tunnel on State Highway 41. No hiking is required, you simply park at one of the lots and make your way to the vista. This spot can be very popular in the summer, so try to arrive early.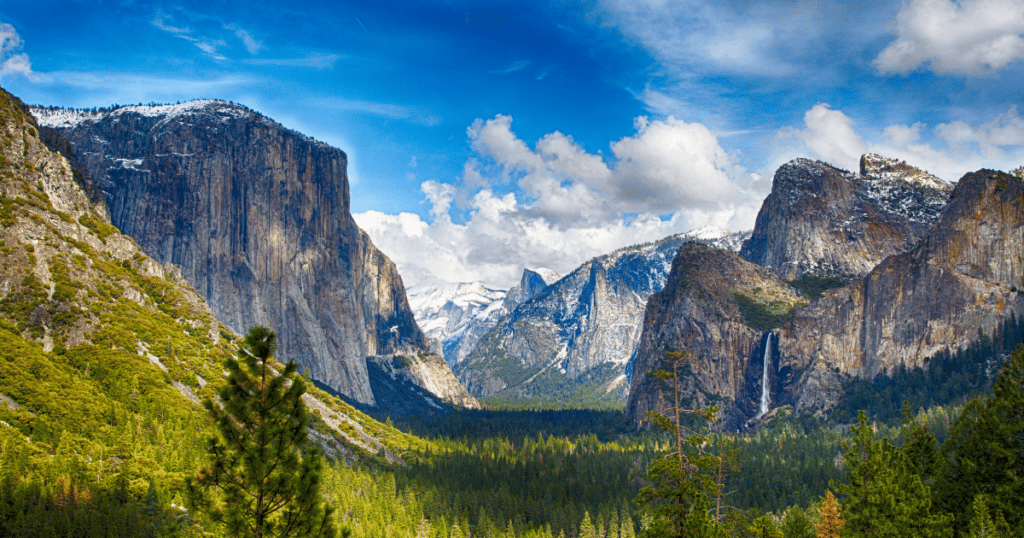 Yosemite Valley – The iconic Yosemite Valley is home to some of the world's treasures, including the famous cliffs and waterfalls that make Yosemite National Park famous is accessible by car and bus all year.
The far-famed valley came suddenly into view throughout almost its whole extent: the noble walls, sculptured into endless variety of domes and gables, spires and battlements and plain mural precipices, all a-tremble with the thunder tones of the falling water. The level bottom seemed to be dressed like a garden, sunny meadows here and there and groves of pine and oak, the river of Mercy sweeping in majesty through the midst of them and flashing back the sunbeams. –John Muir
Half Dome – Half Dome is a granite dome at the eastern end of Yosemite Valley in Yosemite National Park, California. It is a well-known rock formation in the park, named for its distinct shape. One side is a sheer face while the other three sides are smooth and round, making it appear like a dome cut in half.
El Capitan – El Capitan's iconic granite walls dominate the west end of Yosemite Valley. At more than 3,000 feet (900+ m) above the valley floor, it is 2.5 times as tall as the Empire State Building, or more than 3 times as high as the tip of the Eiffel Tower. Coming around the corner and having El Capitan suddenly fill your field of vision sometimes moves people to tears. It is a beacon for visitors, a muse for photographers, and one of the world's ultimate challenges for climbers.
Where to Stay in Yosemite National Park
Tenaya Lodge in Yosemite
During our Yosemite vacation, we stayed at Tenaya Lodge, which we thoroughly loved. Tenaya is about a one-hour drive from the valley and is located immediately outside the south gate entry.
Another great option to stay is the Yosemite Valley Lodge. Located in Yosemite Village, Yosemite Valley Lodge is a family-friendly lodge that's also good for large groups. It is the perfect place to call home during your time in the park.
Campgrounds in Yosemite
Yosemite National Park campgrounds are popular places to stay in Yosemite and there are a total of 13 of them. Seven of them have reservations, while the rest are first-come, first-served, with most of them filling up by noon between April and September.
Channel Islands National Park
If you're seeking adventure and unusual California places to visit, look no further than the Channel Islands, the least visited of California's national parks and parks in the United States!
It's the least frequented national park, not because it lacks adventure or beauty, but because it's located off the coast and requires an 80-minute ferry voyage from Ventura Harbor. If you're looking for national parks around Los Angeles, you've come to the right place. It's only around 70 miles north of Los Angeles.
The Channel Islands National Park includes five islands:
San Miguel
Santa Rosa
Santa Cruz
Anacapa
Santa Barbara Island
Kayaking over the rock walls of Santa Cruz Island in the Channel Islands National Park and snorkeling among the kelp forest were two of our best family travel memories. These are the kinds of excursions we live for, and they reminded us of the exploits we'd had touring Australia's coast.
There isn't much in the Channel Islands besides you and a few secluded beaches, cliff faces, valleys, and canyons for hiking and exploring sea caves by kayak. This park is ideal for a one-day excursion and offers a refreshing break from the hustle and bustle of southern California. It's also one of the most gorgeous sites we've seen in California.
Channel Islands National Park's Top Attractions
Sea cave kayak adventure at Scorpion Anchorage
Snorkeling amongst the kelp forest
Picnic on Santa Cruz Island
Hiking to a viewpoint over Scorpion Anchorage
Where to Stay Near the Channel Islands
Hotels To Stay Near The Channel Islands National Park
We stayed at the Crowne Plaza Hotel Ventura Beach, which is about a 10-minute drive from the harbor. Channel Islands National Park also offers camping opportunities on the islands.
Channel Islands National Park provides a wide variety of recreational opportunities and is such a breath of fresh air from the city life. Since the park is made up of five islands and their surrounding one mile of the ocean, the decision of where to go, what to do, and how to do it can be challenging.
Know before you go: Make sure to check the Plan Your Visit page to make sure you're prepared for your trip to the Channel Islands. Each island is different than the other, offering unique experiences, so plan accordingly.
Redwoods National & State Parks
A visit to the northern portion of the state was high on our California road trip list because I'd always wanted to wander amid the gigantic redwood forests in Northern California. I love how NorCal seems to have all the mystery and charm that I always look for when going to a park. I love the calm of the forests and the song of birds amongst the trees. It truly is something spectacular. I absolutely love it here.
We had our first glimpse of these amazing trees up close when we visited Muir Woods during our 7-day trip to San Francisco, and we were eager to see more.
It's a little confusing to plan a trip to the redwoods and national parks in Northern California because Redwoods National Park is actually made up of four parks, three of which are state parks:
Redwood National Park
Del Norte Coast Redwoods State Park
Jedediah Smith Redwoods State Park
Prairie Creek Redwoods State Park
Combining all the parks, there are some incredible hiking opportunities and scenic drives. Hugging a redwood tree, but not just any redwood tree, a 346-foot-big redwood tree in Humboldt State Park, was one of the highlights. A beautiful trip through old forests, tiny farms, and a few small towns is included.
The Cheatham Grove is a wonderful hidden treasure of Grizzly Creek Redwoods State Park (one of the top California State Parks), and you may recognize it as the setting for the Star Wars film Return of the Jedi's scooter chase sequence.
Don't forget to include these Northern California National Parks on your list of California attractions
Grizzly Creek Redwoods State Park (hike Cheatham Grove)
Drive through Humboldt Redwoods State Park (drive Avenue of the Giants, Founders Grove Trail, Big Tree Grove)
Drive to Jedediah Smith Redwoods State Park (drive Howland Hill Road).
Redwoods National Park (Lady Bird Johnson Grove)
Prairie Creek Redwoods State Park (Fern Canyon Trail)
Del Norte Coast Redwoods State Park (Coastal Trail)
Where to Stay in Redwoods National Park
There are so many quaint places to stay nearby Redwoods National Park. A lot of which are pet-friendly and family-friendly. Here is a list of my favorite recommendations when visiting Redwoods National Park:
Oceanfront Lodge

– located in Crescent City and right on the ocean! Perfect for solo travelers, couples and families. The lodge is also pet-friendly.

Seaside Family Retreat

– located in Crescent City and only 2 blocks away from the ocean. This family-friendly home offers 5 bedrooms and 3 bathrooms; perfect for a large group or family.

Inn of the Lost Coast

– perched high on the cliffs overlooking the Pacific Ocean, this inn features sweeping ocean views from every room
RV parks and campgrounds – There are four developed campgrounds that are all managed by the California Department of Parks and Recreation. Summer reservations are essential and campground reservations are made through the California State Parks. These campgrounds are easily accessed, well established, and provide RV and tent campers with basic amenities.

Learn more about developed campgrounds here.

At the Humboldt Redwoods State Park campground,
Humboldt State Fairgrounds – RV hookups or boondocking options. Ferndale is nearby.
In Eureka,

Redwood Coast Cabins and RV Resort

.
Sequoia and Kings Canyon National Parks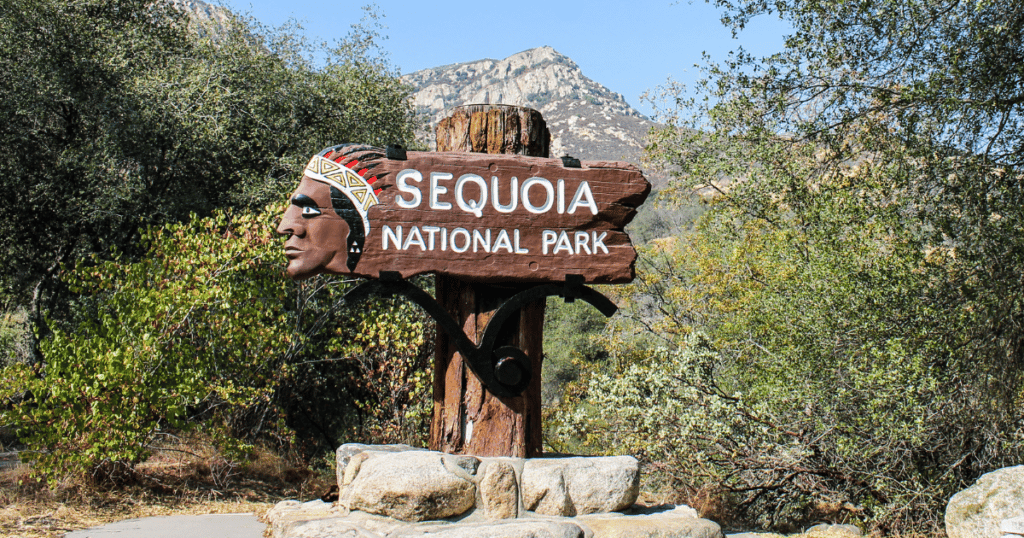 One of my absolute favorite places is in the Sierra Nevada mountains of California. Sequoia is located immediately south of Yosemite and near Kings Canyon. Although they are actually two separate national parks in California, they are combined into one. My favorite place is Sequoia National Park, which has some of the most incredible and giant sequoias in the world. I love coming here to just camp out and enjoy the scenery. It's such a beautiful place that full of peace and tranquility.
Once you arrive, you'll notice the park's massive red sequoia trees (the world's tallest trees) as well as a slew of additional attractions such as the Kings Canyon Byway (for some breathtaking views), General Sherman (for the world's largest single stem tree), and the Moro Rock trek.
From here, you'll see awe-inspiring vistas of one of California's most beautiful national parks. Also, if you go to Kings Canyon, don't forget to see Rae Lakes, see California's second-largest mountain (Mount Williamson), and marvel at the Palisades.
These are the best places to visit in Sequoia and Kings Canyon National Parks
Trail of 100 Giants – This trail offers an easy, accessible walk through the Long Meadow Grove, one of the premier groves of giant sequoias in our area. Along the trail, you'll see impressively large giant sequoia trees, estimated up to 1,500 years old. A 1.3-mile paved trail has several loop options with interpretive signs for some of the highlights. Located on the Western Divide Highway (M 107), facilities include a paved parking area, restrooms, picnic area and Redwood Meadow Campground nearby. A $10.00 per vehicle fee is charged to help maintain and improve the facilities. The roads leading to the Trail are typically closed by snow during the winter months (November thru April).
General Grant Tree – Grant Tree is the second-largest sequoia in the world, is a 3,000-year-old wonder, and the centerpiece of Grant Grove in Kings Canyon National Park.
Cedar Grove Visitors Center – Be sure to stop at the Cedar Grove Visitors Center in Kings Canyon National Park on Highway 180, 30 miles east of Grant Grove and next to the Sentinel Campground. The Center is closed in winter and opens each May through Labor Day from 9 a.m.-5 p.m. Services include books, maps, educational items, accessible restrooms nearby, payphone, and first aid.
Boyden Cavern – Located in the Giant Sequoia National Monument and Sequoia National Forest, deep in Kings Canyon, Boyden Cavern is a marble cave that is open for tours seasonally. Enjoy a 45-60 minute walking tour that takes you into a wondrous world deep beneath the 2,000-foot-high marble walls of the famous Kings Gate and Windy Cliffs. You will experience massive stalagmites, delicate hanging stalactites, beautiful flowstone, and unique pendant and shield formations.
Know before you go: For the 2022 season, it is advised that all guests book tickets online in advance. There is no guaranteed availability for walk-up tickets. All tours will comply with the COVID guidelines in place at that time. Walking Tours last 45 to 60 minutes round trip. Departure times vary based on availability during the season. View available times by clicking here.
Zumwalt Meadow – The most scenic part of the Kings Canyon valley floor. The woods around the meadow are noticeably more lush and green than the woods in the rest of the valley, which is by and large rather sparse and without groundcover. In addition, the meadow is at the steepest and most dramatic part of the canyon, situated between two tall, nearly vertical granite cliff faces. A one-and-a-half-mile loop circles the meadow and is one of the more popular trails in the park.
Pinnacles National Park
Over 23 million years ago, multiple volcanoes erupted, flowed, and slid to form what would become Pinnacles National Park. What remains is a unique landscape. Travelers journey through chaparral, oak woodlands, and canyon bottoms. Hikers enter rare talus caves and emerge to towering rock spires teeming with life: prairie and peregrine falcons, golden eagles, and the inspiring California condor.
Once you've arrived, don't forget to check out the Condor Gulch Trail, Machete Ridge, and Bear Gulch Reservoir. They're all stunning, and they're frequently considerably quieter than Yosemite.
The Best Trails in Pinnacles
The Arrowhead Pinnacles Trail in Lake Arrowhead is one of the best national parks in California. It is a 4.6 mile out and back trail that features wildflowers and is considered a moderate trail. It can get quite busy, so if a long, quiet walk in the woods is your cup of tea, you may want to opt for a different trail. The Pinnacles in general isn't a car-centric park, unlike some that are noted for their scenic drives. It's a place where you're encouraged to explore the 30 miles of trails. These trials will take you through mossy trees, parched barren deserts, and an unexpected reservoir oasis.
Looking to stay in a private home instead? Check out Marriott's Private Homes and Villas here.
If you're looking for an easy, out and back trail, consider Prewett Point Trail, which is less than a mile, round trip, and is considered a gentle hike with great views of the Hain Wilderness. The stabilized trail is 5 feet wide for 0.4 miles to the largest overlook. Between the largest overlook and the trail junction (counterclockwise), it is 3 feet wide for 0.25 miles. There is little shade, and the sun can be intense in the late morning and afternoon.
Another easy to moderate trail is Jawbone Trail, which is 1.2 miles each way, and will take roughly 30 minutes to one hour to hike. If you're looking to take in some views, Jawbone Trail is another great hike. The Jawbone Trail leads northeast from the Prewett Point Trail, descending to the Jawbone Parking Area. From there it connects to the Chaparral Parking Area (0.3 miles).
We were on the trails in no time after a fast drive from the east gate to the Chaparral parking area. While there is no way to drive between the western and eastern entrances, hiking across the park in a single day is possible. Because all of the trails are interconnected, it's simple to tailor your journey to your interests, whether you want to explore the cliffs, caves, or both.
The weather was in the 50s when we went in January. In the hopes of spotting some condors, we opted to start our climb to High Peaks in the middle of the morning to allow some of the coastal clouds to burn off. That plan worked out well for us. Be aware that the summers in this section of California are extremely hot. Make sure to plan ahead of time and bring plenty of water.
Pinnacles is also a popular rock climbing site. It's also a wonderful spot for exploring talus caves in the wild. (Open areas between falling stones form talus caverns.) The caves are closed during the bat mating season, from mid-May to mid-July. Remember that dogs are not permitted on the Pinnacle trails. (While we hiked, Hobbes stayed in the car, but he did enjoy looking at the sign near the visitor's center.)
Things to Do Near Pinnacles National Park
The road from the coast to Pinnacles passes through the Salinas Valley, one of the world's most productive (and attractive) regions. For good reason, it's known as the "Salad Bowl of the World." The nearest gateway city to the Pinnacles in Soledad. It's a small farming town with a population of around 26,000 people.
Big Sur is less than two hours from Pinnacles National Park and is located just east of the Salinas Valley. The park is made up of the ruins of a volcanic "event" that happened about 23 million years ago.
Monterey and Carmel-By-The-Sea are close by to Pinnacles National Park if you're looking for a quiant town feel with ocean waves. Big Sur is less than 2 hours away by car and Carmel-by-the-Sea, less than and hour and a half. Explore
Salinas's Old Town
The Wine Trail Along the River Road
Soledad Mission
A Packing List for the Pinnacles
You should add a few extra items to your Pinnacles National Park packing list in addition to your standard hiking necessities (like my favorite summer hiking sandals). Bring your binoculars, because Pinnacles is a birdwatcher's heaven. You can view quail, falcons, eagles, and other birds in addition to the famed condors. This inexpensive pair is very similar to the ones we use. If you plan on exploring the caves, you'll need a headlamp like this one. Don't forget your sunglasses, sunscreen, and sunhat if you travel during the spring and summer.
Bring plenty of snacks because there is no place to buy food at the park. Water bottles can be filled near the parking lots and tourist centers, but it's a good idea to bring extras, especially if you're hiking on a hot day. Because most of the park has no mobile coverage, make sure you download the trail map on your phone before you go.