The Best Homemade French Fries In Air Fryer Recipe
The best kind of fries are homemade french fries, and the best way to cook them is in an air fryer. By utilizing the perfect kind of potatoes and following a great recipe, you can achieve literally the most tasty and healthy fries you can imagine- and right at home, too!
Every month, there are a few nights I'll be loading up my air fryer basket with freshly cut russet potatoes for a dinnertime side of homemade fries. Making healthy french fries sounds like a fantasy, but the secret is the air fryer!
Not to mention, you're going to be using a fraction of the oil of regular fries to cook them, and if you're in a hurry, you can follow our ultimate guide for air fryer fast food frozen fries below!
Luckily, I've got a homemade air fryer fries recipe that is always a crowd pleaser at the table, and as crispy french fries pair well with plenty of meals, it is important to have a solid french fries recipe to follow that's easy and delicious!
I use an 8-qt Ninja Foodi which happens to have two baskets; it's perfect for pairing my french fries recipe with air fryer chicken wings or even my famous air fryer hamburgers.

Although, any fries in an air fryer time to cook can be estimated by knowing which air fryer models you'll be using as different air fryers call for differing cook times. Basket style air fryers, however, call for less clean up, allow for a quick cook time that still delivers the best results, and have personally made my life so much more enjoyable in the kitchen.
Once you've cut your potato into shape (and ensure you don't skip the most important step of soaking them in cold water for at least an hour to remove excess starch for crispiness), you really just gotta let that hot air in the air fryer do most of the work!
Fries in Air Fryer Time To Cook
As I mentioned previously, knowing how to cook fries in an air fryer and timing them correctly will depend on the model you're using to create this air fryer french fries recipe, and if this is your first time attempting this recipe with a new air fryer or you're using your first air fryer, be sure to check the manual for an appropriate cooking time.
With that being said, if you share in owning the 8-qt Ninja Foodie, I cook my fries at 375 degrees Fahrenheit after having preheated the machine, but the first thing you must do is lower the crisper plate to the bottom of the air fryer basket.

Be careful of your kitchen appliance being very hot when you add in your fries, and cook them for roughly 13 minutes. Every french fries recipe- and, honestly, any air fryer recipes- you find will remind you to place the food you're going to cook in a single layer.
Even if the crisper plate works to promote thorough heating, laying the fries in an even layer speeds up the cooking time as well as adds the extra crispy results so many lovers of the fry hopes to harness.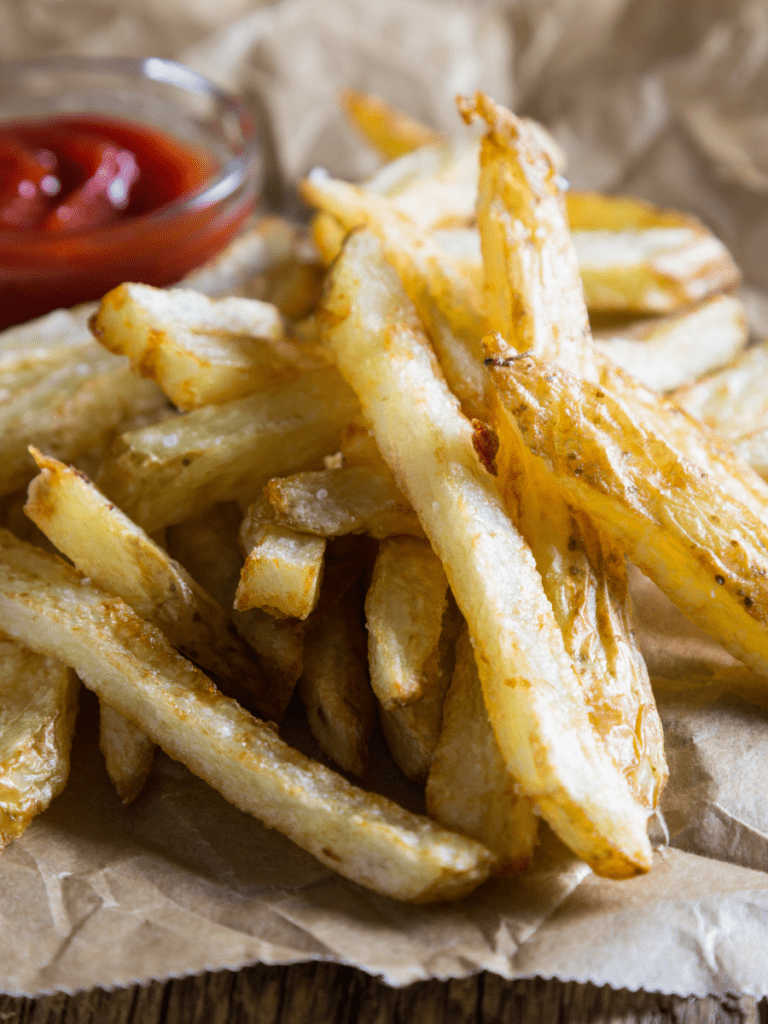 Heat frozen fries by cooking them at the high temperature of 400 degrees Fahrenheit for 5 minute intervals at a time, shaking them about the basket each cycle by using heat-resistant tongs. In the end, you may have a total cook time of up to 20 to 25 minutes, because from there, you can adjust your cooking time to match how crunchy you want to make your opinion of the perfect french fries.
In addition to cooking your delicious, crispy fries by air frying, it is also recommended to preheat your conventional oven to its lowest heat setting, which should lie around the 200 to 250 degrees Fahrenheit range, and line a baking sheet with paper towels.
Above the paper towels, place a cooling rack, and when each batch is done, lay them on this rack and pop them into the oven to keep warm.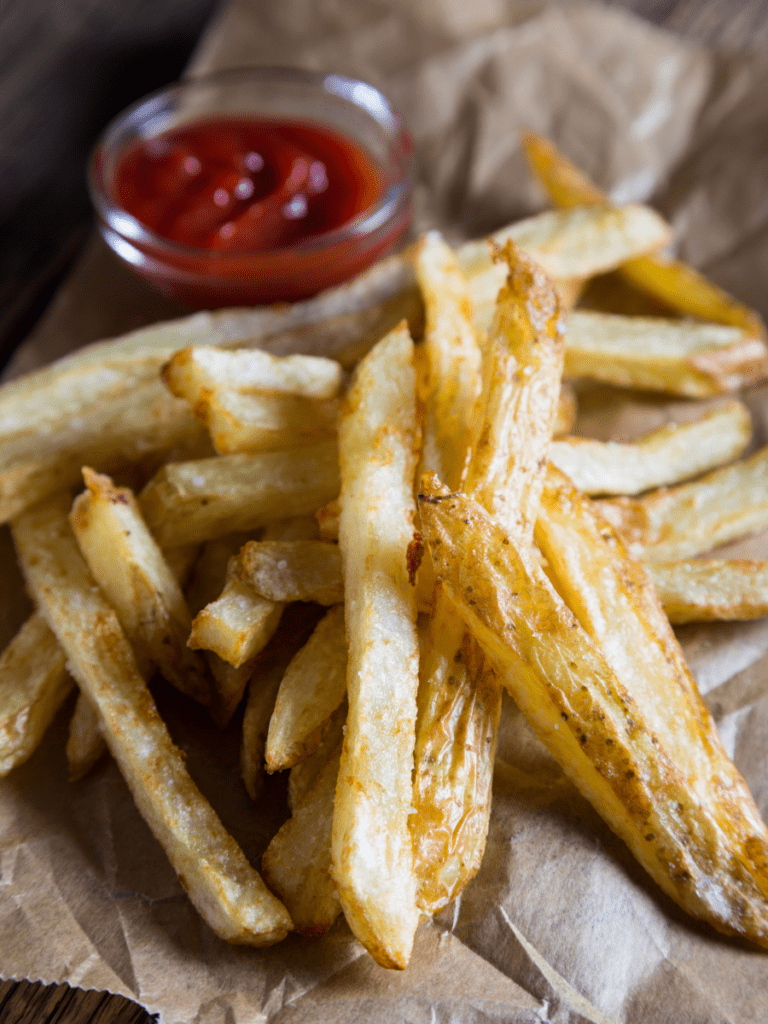 Not only will they keep their heat and not become soggy fries by being in the warm oven at a lower temperature, but they will drip off unwanted, extra oil too, which doesn't hurt considering we've already used less oil than we would have if we had been deep frying instead.
As soon as my family bit into my first batch of homemade fries, we all knew it was going to be one of the best air fryer recipes out there to enjoy. Knowing how to make fries in an air fryer in time with the remainder of your meal also helps move things along in the kitchen as well so that you can focus on whatever else you're cooking!
To me, these beat out deep fried french fries any day of the week, and require such minimal effort, I think we can safely classify this one as an easy recipe that grabs you in with basic ingredients that are packed with flavor.
Unlike soaking your potato in vegetable oil in the deep fryer, an air fryer works a lot like a miniature convection oven, circulating around hot air to cook the fries, and this process requires little oil. A side dish that's healthy and assured to bring in a 5 star rating is bound to make any level of chef a happy camper!
What Ingredients Do I Use?
To start, russet potatoes are one of the most commonly used types of spud to make french fries due to their rich buttery flavor. However, you can also use the Yukon Gold potato.
Apart from the powerful yet simple ingredients such as salt and pepper, you can utilize your favorite seasonings here, and I use onion powder.
As for sweet potatoes, if you're making sweet potato fries, you can skip soaking them in cold water and just dive right into seasonings like paprika, sea salt, black pepper, garlic powder, and a drizzle of olive oil.
Extra virgin olive oil contains monounsaturated fats and antioxidants that are linked to lowering the risks of heart disease and containing anti-inflammatory properties. Lastly, don't forget to add your favorite dipping sauce!
French Fries in the Air Fryer Recipe
This recipe calls for the use of 3 russet potatoes, 2 tablespoons of olive oil, with salt and pepper to taste.
Preheat the air fryer to 375 degrees F and your conventional oven to its lowest heat setting. Wash and dry produce. Use a mandoline slicer to cut the potatoes into fries, or use a sharp knife and cut potatoes to the thickness of your fries that are of your own liking, but note you may have to adjust the cook time if so.
Submerge the fries into a large bowl of cold water for one hour. This helps remove starch to keep the inside of your cooked fries fluffy, while maintaining the crispy exterior.
Next, using plenty of paper towels, dry the potatoes well. Toss in a dry bowl with olive oil and the perfect balance of your choice of seasonings, plus salt and pepper.
Cook for 13 minutes or until crispy and golden brown. Allow to rest in the oven on a prepared baking dish lined with paper towels and a cooling rack so that they do not fall to room temperature.
Preheat the air fryer to 400 degrees F. Toss one bag of frozen fries in 2 tablespoons of olive oil and salt (if desired).
Cook in 5 minute intervals, shifting and flipping them each time, for up to 25 minutes.
Serve with a side of your favorite sauce (my preferred dipping sauces would have to be honey mustard or a small bowl of ketchup!), and enjoy the best french fries!
It's fairly easy to learn how to make, master, and enjoy fries in an air fryer time after time again. With such an easy clean up, and so many different types of fries to try, I believe I may have to branch out next time and try something new, like waffle fries!
Recipe FAQs
How long should I air fry french fries?
When you pre-cook the potatoes (which I detail in the recipe below), the cook time in the air fryer is much less than if you weren't cooking them on the stove. You can air fry french fries for 13-15 minutes for crispy, golden brown french fries.
How long does it take to air fry frozen french fries?
You can cook frozen french fries in the air fryer for 15 minutes at 375°F.
What types of potatoes can I use to make air fryer french fries?
I personally love Yukon Gold potatoes because of their beautiful flavor after they are air fried. You can use russet potatoes as well, which also tastes amazing!
Should I soak potatoes before cooking?
I don't soak my potatoes before cooking because it takes too long, haha! Instead, I just slice my potatoes and cook them in a saucepan for 10-12 minutes before putting them in the air fryer and they come out beautifully.
You should soak your potatoes or pre-cook them though. Otherwise they will come out terrible and nobody will eat them (trust me, I've tried it).
Other Easy Air Fryer Recipes You'll Love!
Ingredients
4

large

russet potatoes

-

or 8 small yellow potatoes

1

tbsp

olive oil
Instructions
Rinse potatoes well and add to a medium saucepan. Add water, covering potatoes, cook on medium heat for 12 minutes.

Drain potatoes and add to air fryer. Add salt and spray lightly with olive oil or drizzle with 1 tbsp olive oil. Cook for 13 minutes at 375°F, until crispy and golden brown.
Notes
When adding fries to the air fryer, make sure to place them evenly inside the basket so they can cook evenly. Don't stack them or they all won't cook thoroughly!
If cooking in batches, set aside fries in the oven and keep warm at 200°F until all batches have been completed.
Nutrition
Calories:
200
kcal
|
Carbohydrates:
32
g
|
Protein:
4
g
|
Fat:
4
g
|
Saturated Fat:
1
g
|
Sodium:
70
mg
|
Fiber:
3
g
|
Sugar:
2
g
Like This Post? Pin It For Later!
Recommended Products